Product Guide
Some of our products are a standard size,but others are available in a variety of different sizes or styles - Here's a guide to help you choose the right ones for your Pets and how to care for them:
This is for Hamsters or similar sized Rodents - It's not big enough for Guinea Pigs,This size differs from the larger sizes as it doesn't contain any Wadding inside to prevent any problems with 'Pouching' the Wadding fibres just in case smaller Rodents do decide to chew their Cozy.
Measures approx 16x21cms (6½" x 8½")
Price - £4.50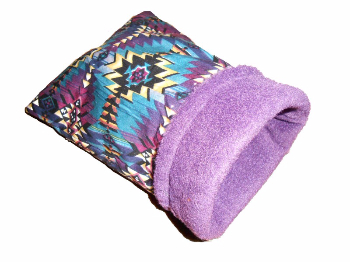 Medium size cozies are suitable for Small or Baby Guinea pigs or similar,While a larger adult piggy may be able to fit inside,they will likely have difficulties turning round easily which might put them off using it.
Hedgie Bags are the same size, but the opening is along the longer side to make more room for Prickles!
Measures approx 20x25cms (8" x 10")
Price - £6.00
Soaker pads are ideal for use in high traffic areas of your cage,they have an absorbent cotton towelling centre so can be used under Beds etc.. or beneath a water bottle to catch any drips and help protect cage liners,or they can just be used as a comfy sleeping spot.
Standard size measures approx 20x20cms (8") but they can also be made to fit the base of either of our Beds.
Price - From £3.50 (For 20cms square)
All our padded Blankets are the same size - approx 50x50cms (20") but are available both with or without a waterproof layer.They have fleece on the bottom and the option of either cotton or fleece on the top.
Those with the waterproof layer inside are great for use during playtime with your pet to protect either your lap or furniture by catching any of those little bladder 'accidents' that often occur,but they are not recommended for use as bedding inside a cage etc.. as with the waterproof layer stopping the liquids from soaking through the top layer may become damp,which obviously is not a good idea for within a cage where piggies may sleep on it.
If you would like to use them within a cage then those with 2 fleece sides and without the waterproof lining are the best option.
Price - £9.25 / £9.75 (with lining)
Corner Fleeces have a triangular shaped top that will fit into the corner of most cages and then have a curtain of fleece strips that hang down from the front edge.
The Triangular top measures approx 30cms along on the short sides and 40cms across the front. The fringed drop is approx 30cms high. There are metal eyelets on each of the 3 corners for use in fixing it to your cage.
Price - £6.75
There are several sizes and styles of Hammocks to suit different Pets.
Each Layer of a Hammock is made from 1 Layer of Cotton/Polycotton and 1 layer of Fleece sewn together to provide a sturdy and Comfortable place to snooze.
Metal Eyelets are fitted to each corner to enable Hammocks to be hung up in your cage.
(Metal Hangers are available separately)
Flat 1 Layer Hammocks are available in Square,Rectangular and Corner (Triangle) shapes in different Sizes i.e Mini sizes for Small Rodents like Mice etc.. Medium/ large for bigger Rodents or for multiple animals to share.
Double Hammocks have 2 layers and are great for the more agile climbers like Rats etc.. and give a snug enclosed sleeping spot
Triple Hammocks have 3 layers giving 2 separate lower level sleeping areas so are great if you have multiple animals that want to share
While many Guinea Pigs do like to use Hammocks they are definitely not the agile climbers that many other rodents are, So flat hammocks are generally the best to use and always be sure to fix them close to the floor so they can enjoy the comfort but without any chance of them falling out
Prices are from £3.50 - £13.00 depending on size/ style